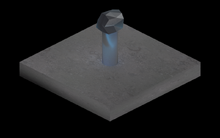 A Tallium-Analog in the Volantantium family. Its physical and some chemical properties mimic those of Tallium-Family glasses. Along with Tallium-Family elements such as Tallium 32 and Tallium 21, it is used in the production of smart glass for products such as heads up displays and solid-energy generators.
Talionsphorinohn can be used to create Talisphoric Acid, a powerful stimulant and dangerous hallucinogen, which also has industrial and pyrotechnic uses.
Ad blocker interference detected!
Wikia is a free-to-use site that makes money from advertising. We have a modified experience for viewers using ad blockers

Wikia is not accessible if you've made further modifications. Remove the custom ad blocker rule(s) and the page will load as expected.