Vurteks

Government

Affiliation:
Shield/Symbol:

Some attributes

Type:
Ice Titan
Satellite(s):
None
Population:
None
The third and largest planet in the Hazxion System, Vurteks is an Ice Titan, and the sister planet of Syntaks. It has no moons or rings, but its rotation is offset by Syntaks, giving the impression of satellite action.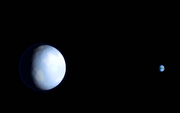 Ad blocker interference detected!
Wikia is a free-to-use site that makes money from advertising. We have a modified experience for viewers using ad blockers

Wikia is not accessible if you've made further modifications. Remove the custom ad blocker rule(s) and the page will load as expected.